Bringing real meals right to your door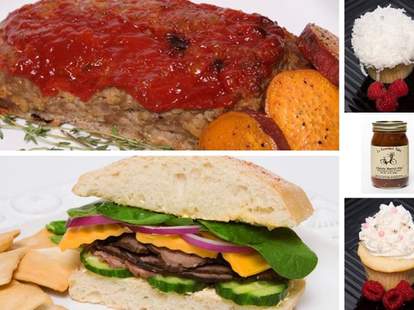 If your home-cooking is limited by the fact that you once thought "fennel" was something you did with cheap beer and did even better after your friend Chad taught you to "open your throat", you could probably use some help. And Le Gourmet Valet, delivering now.
LGV was founded by an Alabama-born SMU grad whose grandfather was "the world's largest producer of red snapper"; her idea for a service that delivers prix-fixe meals was inspired equally by a luncheon with cookbook maven Ina Garten, and having a friend get mugged in a place known more for crimini than criminals: the Whole Foods parking lot. The menu rotates weekly, and so far's seen green chile chicken enchiladas (w/ "south of the border" rice, SW black bean/corn salsa & choc ganache), Chicken en Crochette (over a pastry shell w/ veggies in cream sauce, stuffed 'shroom caps, mini bundts w/ choc glaze & strawberries), and Creole snapper alongside glazed green beans & walnuts, potatoes w/ cheddar chard, and brownies that Rod Stewart thinks have more fun (blondies). They've also got their own jarred foods, like marinated 'shrooms, spicy-as-heck artichoke hearts, and pickles/sliced peppers/maraschinos in a bread-and-butter base called "cherry sweet fires", which taste so good they'll make a grown man cry. Because he's on fire.
Gift trays're also available, from the "Grand Cheese Lovers" (olives, 'shrooms, handmade Cheese Straws, pecans, dark chocolate) to the "Sweet and Salty" with shortbread, pecans, and Dude Sweet Chocolate Potion, which you once thought... never mind.