What if 7-Eleven had a mixologist... and a truck?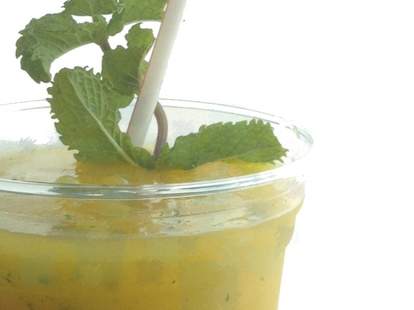 Actually taking "when life gives you lemons, make lemonade" to heart, and on the road: the SlushWorks truck guys, whose Munch Box fell victim to a not-particularly suppressive fire-suppression unit, after which they built out this roving venture dealing in frozen lemonade and other ice-cold concoctions involving fresh, seasonal juices, cane sugar, and a "careful analysis of the balance of flavors and textures", though Flav tends to overwhelm everything he's thrown into. They're planning to roll out tomorrow (stay on top of their schedule right here), so here's basics
Customs: Instead of making you wait in a Terminal D line for 45min like some sort of drug mule, they're giving you a choice of base drink (lemon, mango, coconut) then adding in options like strawberry, black tea, mint, caramelized pineapple, ginger, and blackberry, which apparently mixes great if you do a hard reset 3x a day
Menu Combos: That careful analysis has produced formulations like the colada-esque El Pina (coconut/pineapple), the Ben Franklin (lemon/coconut/mint), and the lemon/blackberry/strawberry Berry Lemonade, Marion Barry Lemonade only being appropriate after life's given you lemons, because the b**** set you up!