Make your Super Bowl munching Wonderlicking good with these no-brainer recipes from some of Dallas's top snackologists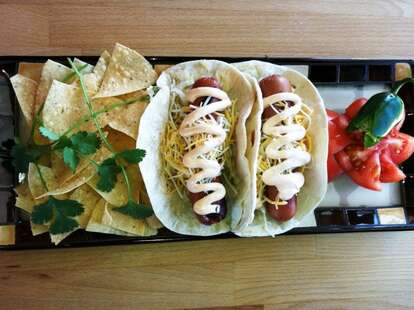 Instead of wasting your time deciding which team you hate less, bone up on these super-easy game-day snacks, all guaranteed to make you completely unable to Justin Tuck in your shirt.
The Border DogRodolfo Cardoso, Taco Ocho The Richardson taco-toque's devised the ultimate in hands-eating fusion: a tortilla stuffed with Mexican cheese, sauerkraut, mayo, and a beef frank, but not a beef with Frank Reich, because if you're still holding a grudge from XXVII, you're over the line. It's not a taco, or a hot dog, it's a hotaco. Here's how you make 'em.
Four-Cheese Bacon-Stuffed JalapenosTiffany Derry, Private | Social Ms. Derry combines the four elements of football umami (spicy, fried, bacon-y, cheesy) in a package even more pop-able than Wes Welker's when you've got your towel twisted just right and he's totally not expecting it because he's all giddy after catching 14 passes for 103 yards.
It's hard to argue with one cheese, let alone four. Learn the simple steps here.
The QB 'RitaTyler Lott, Asador Much like Eddie Money, this cinnamon twist on a traditional reposado margarita should be shaken. Much like Eddie Murphy, it should be put on ice. Much like Eddie Murray, it will kick you squarely in the balls. Eddie Murray the kicker -- the baseball player would hit you in the balls. Read up on this guy right here.