Restaurant A departs Oak Cliff at 65mph. Restaurant B departs S. Dallas at 65mph. Which do you eat first?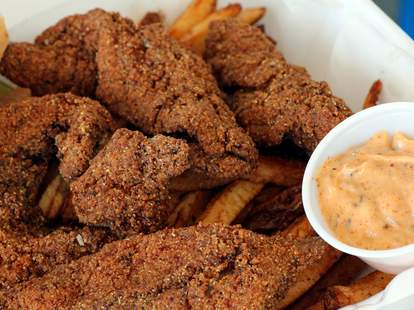 Run by engaged proprietors Clarence and Amra, The Lab's now roaming the streets of Dallas, peddling a form of fusion Oppenheimer never dared dream of: two restaurants -- South OC staple Catfish Connection and S. Dallas's Lil Cajun -- operating out of one truck. Both establishments rely on familial recipes that trace their roots to mid-century Mamou, LA, aka "The Cajun Music Capital of The World" thanks to songs like "Tit Galop Pour Mamou", which probably isn't what you think it is, but really who can tell what Cajuns are saying?
Anyway, Clarence swears it's his cornmeal batter and spices (made specifically for him by TX's Adkins Seasoning) that separate his & his mother's recipes for dishes like extremely flaky and plump fried catfish, etouffee, gumbo, crawfish, and shrimp cocktail, hopefully made with secret ingredient Averna Troyer.
As they start moving to different areas (Deep Ellum, Midtown & Cedars Food Park are all on the docket), they'll be rolling out more options like shish kebabs, pork chops & steak, all guaranteed to turn a Little Boy into a Fat Man.