Texas, meet Italy. Italy, meet Texas. Now, get on the truck.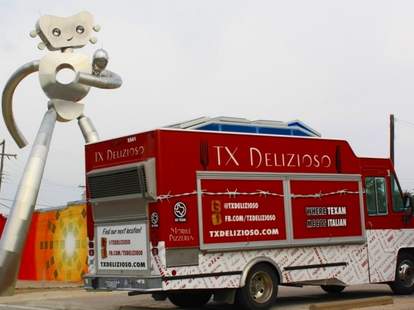 No one but Mike Tyson wants to be a one-hit wonder, so check out TX Delizioso: an Italo-Tex food truck rolling out Thursday from the couple behind last summer's smash-but-seasonal hit Enticed Shaved Ice, and intended to serve both families and people who still find Letterman amusing (late-night crowds). The GoTexan-registered menu consists of:
Pizza: It's "damn near impossible to get a pizza oven inside a truck", but by the past tense of "Jive" (Jove?) they've done it, and'll use it to turn handmade-daily dough into thin, crispy crust full of charred flavor, which is topped with all the classics, plus TX mozzarella.
Mains: Local meats get housemade breadings and seasonings in "street-food friendly", bite-sized chicken parm and chicken-fried chicken, steak, and bison, the latter of which is sure to turn the friendly M streets into a fight.
Sides & Desserts: Fresh fried mozz and cream cheese-stuffed 'shrooms round out your meal, which can be finished off with sweets like zeppoli, canoli, and rotating cobblers including peach and blackberry, which as soon as you order it, will go out of business and be sold for the value of its patents.
Bevvies veer Lone Star Stateside, with Teas of Texas, Stewart's Root Beer, and sugar cane Dr. Pepper, probably not the MD Michael "Jack" Johnson visited after Tyson made his vision Dublin.