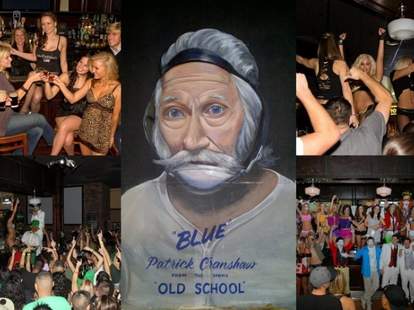 The secret to success often lies in sleeping with your aunt, but if that's not doable, rapid growth will work. Blowing up all over America: McFadden's, opening its first TX location Thursday in Addison.
The former Addison City Limits has been completely redone (save for a portrait of the previous owner's father, who you'd damn well better know as Old School's "Blue"), and's now a party palace featuring 40 screens, a much larger stage/dj booth, a cigar-friendly pool/darts room, and a semi-open lounge with bottle service for those too good to get up off their can. Brian Nance (Abacus/La Fiorentina/Nodding Donkey) is fattening patrons up with shepherd's pie-style "Irish Nachos" and burgers like "The Hangover": a 10oz patty 'tween two grilled cheese sandwiches, two fried eggs, four bacon strips, avo, mayo & a mound of cheddar, all guaranteed to "cure what ails ya", unless it's, you know, cardiovascular disease. More nourishment comes from Guinness-tinged Irish beef stew, seasoned rib eye "Steak Stroganoff", and another burger, this one a 1/2-pounder served over mac salad & fries and smothered in spicy meat sauce, ketchup, mustard & onions, and called the "Garbage Plate", even though it's not quite 2.0 pounds.
The cocktail list is awaiting submissions from their 14 bartenders, but they are set with 24 taps ranging from Magic Hat, to Smithwick's, to Boddingtons, to Blanche de Bruxelles. They'll open with three days of parties, the last on Saturday when Sasha Grey hosts, ensuring you'll experience rapid expansion you'll unsuccessfully try to keep secret.