The best reason besides the Swarovski store to head to Allen's Watters Creek: Savour Tasting Room and Social Club, a worldly endeavor headed up by a man who, like Tim Hardaway, spent 20yrs traveling, though unlike Tim Hardaway it was to places like Paris, Tokyo, Hong Kong, Bora Bora, Tahiti & Florence. A wicker chair-lined patio bar leads to a burgundy-boothed lounge, which in turn gives way to a cathedral-like dining room where you can consume a wildly varied feast like this sample five-courser:

Tuna Nachos: Ahi, garlic aioli, serrano pepper, cilantro, lemon & lime on wonton chips, almost as satisfying as Wanton Chips, the show where Ponch and John just randomly shot skateboarding teens and businessmen who didn't have time to be pulled over because they had important business to attend to.

Toasted Veal Ravioli: Load that down with spicy arrabbiata sauce and creme fraiche, and there's your second course, you fat, beautiful sonofabitch.

Greek Pizza: Lamb, mozz, feta, olives, purple onions, green pepper, garlic-infused olive oil, creme fraiche, avo creme, and a habit of really pissing off Brent Musburger.

Arepa: Get your corn cake stuffed with achiote chicken/pork, black beans, anejo cheese, tomatoes, rosemary lime vinaigrette, and romaine, formerly romaine-stamos.

Crackling Pork Shank: Served with fries & slaw, this guy's slow-roasted and drizzled in spicy peach-bourbon glaze -- after all this, you'll be hard-pressed to give up your dribble.
Previous Venue
Next Venue
Venue Description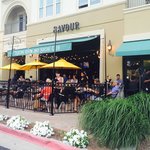 1. Savour Tasting Room
968 Village Green Dr, Allen, TX 75013 (Dallas)
Located right next to the open green in Allen's Watters Creek shopping center, Savour Tasting Room's indoor-outdoor patio is the ideal place to sip away your problems. The restaurant has an impressive mussels menu, so order a bottle of wine with your friends and try a few of the flavors. The hot ticket for Savour Tasting Room is their champagne brunch, which features bottomless mimosas. If you'd rather come around happy hour, the small plates on the menu are the perfect size for sharing while your friends trickle in after work.