Dick's might be your last resort, but in the West End, Ellen's Southern Kitchen is your first one, because the place serves breakfast all damn day long. Named for one of the owner's home-cooking moms, the black & white diner's centered around a wooden bar that lies opposite windows -- and a patio -- that spy out on old warehouses like some 1930s G-man. Designed by a Butcher Shop Steakhouse/Mercury Grill vet, the menu starts off with (and keeps going with -- hence "all day") biscuits-'n-gravy; wheat toast topped w/ sliced garlic, 'shrooms, bacon, scrambleds, TX goat cheese & chives; and poached grits w/ cheese, bacon, tomatoes, garlic & spinach, supporting two poached eggs & Hollandaise -- Derek Hollandaise being something you'd find in a jam. Mains stretch from blackened catfish, to the BLTEA (BLT + fried egg & avo), to a USDA prime meatloaf that'll make you fat out of hell. Beyond six local taps like Franconia, there's a "limited, but quality" cocktail program, and a full lineup of Seattle's Best coffee, guaranteed to take you from "man Thursday night was rough" to "T.G.I. Fridays!" in no time.
Recommended Video
This Waffle Is Made Out of Chicken
Previous Venue
Next Venue
Venue Description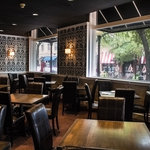 1. Ellen's Southern Kitchen
1718 N Market St, Dallas, TX 75202
Designed by a Butcher Shop Steakhouse and Mercury Grill vet, Ellen's Southern Kitchen is where real Southern cooking meets a little bit of Downtown Dallas' high-class flair. The blue-gray paint and vintage patterned wallpaper set just the right tone for fluffy flapjacks with dainty dustings of powdered sugar, buttermilk chicken fried steaks with a crunch loud enough to burst ear drums, and slow-cooker pot roasts just like your mom's (we promise not to tell her).