Because even videos not starring attractive, psychologically unbalanced starlets are awesome to watch, we follow TJ's proprietor Jon Alexis all the way through the fish cycle, from grabbing the freshest possible catch, to the fine work done by chef Scott Hoffman and his team, to you chowing down at the Lawn location.
Recommended Video
Potato Skin-Breaded Queso Balls Will Make All Other Apps Obsolete
Previous Venue
Next Venue
Venue Description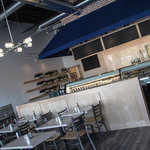 1. TJ's Seafood Market
4212 Oak Lawn Ave, Dallas, TX 75219
This joint offers up a number of services ranging from a sit-n-eat seafood spot to a fresh fish market to a competent and complete caterer. Stay for a meal of fresh-from-the-ocean fare or purchase your raw ingredients to take home and cook up yourself. And if you're new to the latter, TJ's has advice and recipes on their website to do it right.