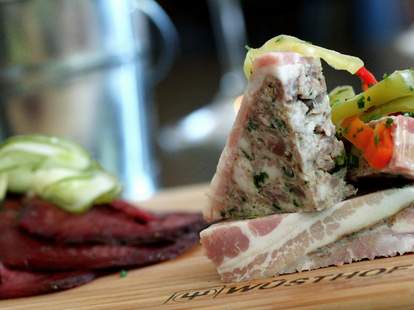 Road trips to New Orleans don't typically produce anything as refined as Boulevardier, soft-opening tonight in the BAD. Instead of stories about how some dude swatting you in the face caused you to simultaneously gush blood from your nose and "vomit with rage" (you know who you are), the guys from Ava and Veritas consumed many Boulevardier cocktails and dreamed up an airy, wood-lined bistro anchored by an imposing bar where fresh fruit resides on the concrete top and darker spirits vie for prominence in spartan metal shelving
Supported by fresh-baked bread, the menu -- "rustic French with both classics and twists" -- gets rouler-ing with a brandy-laden French onion soup that takes two days to make while they very slowly caramelize the onions; brined-then-hot-smoked duck ham served w/ apple butter & sliced apples vacuum-marinated in St. Germain (yet another use for your amazing Dyson Ball!); and root-beer- & chicken-stock-braised Berkshire pork cheek served over a crispy grits cake.
Go bigger with lamb neck daube braised in white wine, pork skin, orange zest, cinnamon, and olives; the red wine butter-basted Tate Farms burger (direct from the chef's own livestock); and a signature chicken dish where the bird is both prepared sous vide and grilled, doubling your pleasure in a way those tease Doublemint Gum twins never did
Intoxicants range from the bistro's eponymous inspiration (called "the Jazz Age bastard child of the Manhattan and the Negroni" by noted bartender Toby Cecchini), to the 8th St Sour (Bordeaux floating over Armagnac), to the habanero-infused tequila/house grenadine/grapefruit/lime/orange bitters Slow Burn -- more of a gradual buzzing than a swat to the face.