Swayze would have fueled up here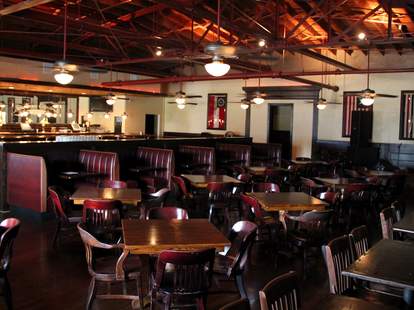 Getting "fluffed up" might be necessary and even fun in certain industries, but it's something the Three Sheets & Lotus owner promised to avoid doing to Southern cuisine when he decided to gently restore the old Kirby's Slaughterhouse, now Southern Comforts Roadhouse Grill. Grand-opening next weekend (so, you know, save to My Thrillist so you'll remember), the place has kept everything from the wood floor and hutch roof to the ancient sprinkler riser intact, adding tons of fans and an AC so massive it's measured in metric sh*t-tons.
Co-owner/chef Andrew Ormsby's apps include duck liver mousse w/ red pepper jam, deviled crab cakes w/ smoked tomato butter, and, with braised pork belly/charred corn/cayenne butter, some black mussels, which can also be found on those pages of ESPN's Body Issue not dominated by Rob Gronkowski's ding-dong. Then step up to apple-glazed salmon, a Carolina pulled pork sandwich, and the jalapeno cream cheese/applewood bacon/green lentil/madeira sauce Texas Quail, tastier and more grammatically correct than Indiana Quayle.
Classic libations count juleps, Manhattans, Lynchburg lemonades, SoCo Cherry Colas, and a martini that, despite being dirty, will ensure those fluffers will be working in vain.