Unless you're the Post Office, pushing the envelope is the surest path to true relevance, an ethos you'll find at Oak, opening for dinner tonight. Run by Tommy DeAlano (Candleroom, Sunset Lounge) and designed by Plan B (Bolsa, Cedars Social), this culinarily fearless endeavor wears its namesake well with distressed white oak flooring and a 12ft semi-private dining table made of the same, with other touches ranging from striking light covers (metallic circles woven into soccer-ballish spheres) to a stone-lined bathroom sink described as "spa-like" (don't relax too long or people will start wondering)

Former Mansion chef Jason Maddy literally got the gig by winning a "reality show-style" cookoff with a dish of Moroccan octopus & pork jowls w/ aji panca, breakfast radish, and cilantro. That effort joins a global menu starting with the likes of orange marmalade-kissed Jonah crab & Point Judith calamari, and, with blood orange & shaved fennel, some honey-glazed Bandera quail, which unlike Banderas quail isn't the BIGGEST quail you have ever seen, but is still pretty plump.

Mains count pappardelle with dandelion pesto, San Marzano tomatoes, and herb gremolata; Mediterranean branzino with artichoke confit, white anchovy vinaigrette, and chorizo; and, sporting a brandade fritter & cauliflower serene, a Minus 8 Vinegar-dressed seared Chatham cod, which frankly is a weird mascot for an all-girls school

Backed by sliding mirrors, the 30ft green granite bar shakes & stirs such numbers as the Johnny Black/Cinzano Bianco clover honey/bitters Distinguished District Man, Mescal Punch (raspberry, pineapple, jalapeno, lime, agave), and the Hennessy/Rittenhouse 100/Benedictine/bitters Vieux Carre -- all conclusive proof that, as with the food, when it comes to tipples these guys aren't mailing it in.
Previous Venue
Next Venue
Venue Description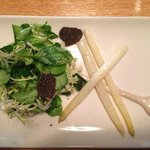 1. OAK
1628 Oak Lawn Ave, Dallas, TX 75207 (West Dallas)
Outfitted with soft lighting and even softer leather booths, OAK's sleek and comfortable interior is outdone only by its globally-inspired menu and extensive collection of craft cocktails.