An eco-friendly place to fatten your belly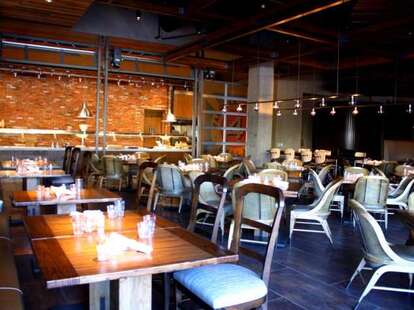 It's not easy being green, as Kermit proved when Muppets from Space bombed despite cameos from some of the '90s' hottest actors (Katie Holmes and Joshua Jackson!). Taking up the challenge anyway: Texas Spice, opening tomorrow in the Omni, and aiming to become Dallas' first LEED-certified green restaurant.
Beyond plating insanely tempting, locally inspired dishes, this reclaimed brick & wood 300-seater is composting, replacing bottled water with a Natura filtration system that offers both sparkling & still, and even channeling rainwater to be the sole moisture source for the trees on the sizable patio, where you'll also find the Pearlmans, who'd never miss a fun patio party, even during their trial separation! a huge limestone fireplace. Designed by James Weaver (French Room, Mandarin Oriental) and chef de cuisine Corey Garrison, the menu kicks off with apps like hanger steak lettuce wraps (w/ poppyseed slaw, caramelized onions, feta), tuna tartare (cucumber-avo relish & citrus aioli), and pickled beet carpaccio with Paula's Deep Ellum goat cheese, quail egg, and longhorn summer sausage, as having two-a-days in 110-degree heat truly is a grinder. Mains run from saucy house-smoked brisket flatbread (w/ caramelized onion, roasted pepper, bleu cheese, mozz), to Texas Spiced Gulf Red Fish (charred tomatoes, black beans, jalapenos, avo vinaigrette), to a chicken-fried rib eye, to Dublin Dr. Pepper BBQ Pork Ribs, which taste more like regular Dr. Pepper, but in no way represent a diet.
Because breakfast is the most important meal of the day not named "lunch" or "dinner", they're serving up AM brisket hash (w/ poached cage-free eggs, sautéed jalapenos, potatoes, onions, chipotle hollandaise), a house-smoked salmon platter, and a frittata with pulled "all night" BBQ pork -- if that doesn't pull on your heartstrings, you must be Gonzo.