Ensuring you'll never have to eat a burger sans the comfort of booze again, Liberty Burger's Keller Springs/Tollway spot opens early next week, bringing with it not just table service but also an array of infused tequilas, whiskeys, and vodkas that play out in tweaked versions of classics like the Moscow Mule, as well as a trio of adult milkshakes such as the custard-'n-citrus vodka Orange Julius, who got that way after the conquest of Gaul-Body Tanning Solutions.
Recommended Video
This Beer Is Stronger Than Whiskey
Previous Venue
Next Venue
Venue Description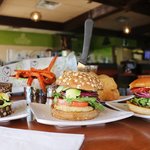 1. Liberty Burger
5181 Keller Springs Rd, Dallas, TX 75248
This family-owned joint beloved by Texans brings burgers and booze together to form the tastiest of unions in a million different variations. Beef and bison sit atop thick multigrain buns in creations like the chipotle bbq Wild West and the double decker Baby Bella, while lamb bases the classic Jackie O and The Traitor sticks to grilled chicken. The indulgence doesn't end there -- creamy concoctions of rich custard and Parton meld in boozy shakes like the coffee-flavored Lebowksi.