It doesn't mean what you think it means. Or maybe it does.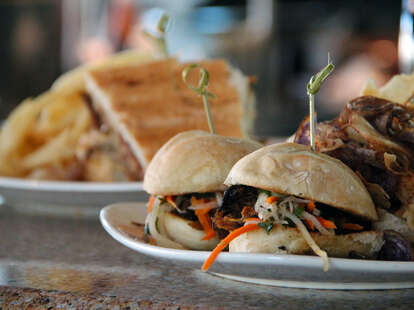 Following in the footsteps of Jake and the Fat Man is Keller's FnG Eats, a brick brasserie where food art takes your very physical hunger to abstract levels. The place takes its name from the chef-owners' kitchen nicknames: Bob Stephenson (Cool River, Jack Knox, Patrizio) is Gordo (a name given to him before he lost 160lbs), and Carlos Arevalo (Pearl St. Oyster Bar, also Cool River) is Flaco, because he's 6'6" and loves watching The Wire with Anquan Boldin... or because he's very skinny.
Regardless of the name's true origin, they're hoping you'll find the menu F'n Good (and it does look that way -- eye these pictures for proof), starting with apps like Mini Mi (wee little banh mi sandwiches) and mix of jalapeno, apple, cheddar, Port Reyes bleu cheese, avo, poblano & scallion dip called J.A.C. Roqamole, as J.A.G. Roqamole is only interested in who ordered the code red on Private Santiago. Mains veer upscale-comfort, with chicken fried venison in chili 'shroom gravy; Pipestone Farms pork chop stuffed with gruyere & apple and topped with a maple demi; and Scottish wild salmon, though these days it's orange-colored Englishmen that are getting out of control
Because you drink, the U-shaped bar fuels cocktails including a blood orange/chili martini, and carries infusions like mango-jalapeno-pineapple tequila. For dessert, take down a banana split whose chocolate chip cookie dough ice cream harbors jalapeno-cured bacon fat, or go for "Chocolate Jenga" -- cherry, almond, orange, and chili-infused "dark chocolate fun" that'll make you such a Fat Man, you just fall over.