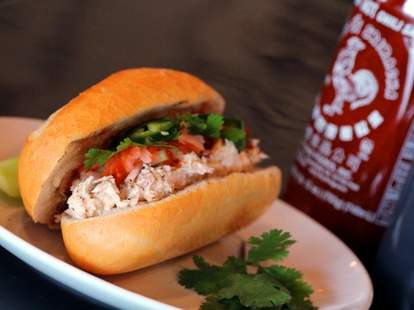 To deal with the frustrations of the working world, you can either beat the crap outta the copier with a bat, or walk away, a better option if your internet-age company has gotten rid of copiers and you'd just be swinging at air like a crazy person. Walking out of corporate life and into the kitchen: the man behind DaLat, a late-night Vietnamese spot soft opening Thursday on Fitzhugh.
Khanh Nguyen's a former corporate attorney who, while taking a year-plus to "find himself", found himself constantly cooking; so, he opened this patio-equipped 75-seater, where the hours run from 10p-2a, blue & white pottery sets an authentic tone, and a giant dragon's head over the kitchen door ensures all staff must... Enter the Dragon. "Midnight munchies" are centered around banh mi, with proper texture (not soggy) and flavor ensured by misting soy onto the bread before topping with classic fillers (BBQ pork, tofu) and non-traditionals like peppered turkey, albacore (he's a tuna freak), and Spam -- if you want extra, ask for Spaaam Spaaam Spaaam Spaaam. Or, go with numbers like pork meatball & vermicelli soup (garlic & meat-tenderizing baking powder in the pork), Thit Bo Ka (rice, pork loin, caramel/coconut sauces & a stabbed boiled egg), and the pan-seared pork belly/fish sauce Viet chili, a dish dreamed up at a cook-off, not Davis's nickname during those final desperate years playing semi-pro in Ho Chi Minh City.
So you can make your brisket or tofu pho just the way you like it, he's installed a self-serve station with green onion/lime/basil/pickled red onion/sprouts -- if the guy next to you steals your exact garnish moves, beat the crap out of the copier.