Because sometimes, a cheeseburger just isn't good enough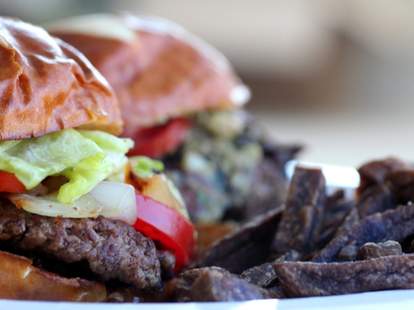 From the peeps behind the Original Market Diner, Better Burger's a '50s-style spot whose walls display sketches of Route 66 Americana, and whose bar slings hand-ground beef and specially seasoned ground turkey topped with whatever you want (guac? fried egg? coleslaw? extra patty? Damn right, extra patty -- tell your conscience to go freak out about that time you slept with your mom's hot divorced friend), then stuffed between pretzel buns. The place just opened, but these hot specialty burgers will debut next week:
Cuban Burger: Have you ever thought, damn, I wish those commie bastards would have invented a freaking hamburger that also had ham on it instead of just this patty-less sandwich? God bless America.
Magic 'Shroom: You will be tripping so hard when you eat this beef, portobello, Swiss, goat cheese spread, and roasted garlic number. Then you'll start crying for like 20mins, but then you'll start tripping again, and the windmills will be beautiful.
Mediterranean Turkey: This Greek's got a surplus! Of pickled onions, yogurt sauce, and olive spread, which Popeye wishes she'd quit doing for every guy with a spare $5.39.
Bonus greatness: They're making all sauces from scratch, including chipotle ketchup, Dijon honey mustard horseradish, chipotle ranch, and rosemary mayo. Fries include russet, sweet, and a really purple variety that apparently's chock-full of antioxidants -- so once again, you'll feel guilt-free, except every time your mom has the gals over for bridge.