Oh, and they also have 2000 beers!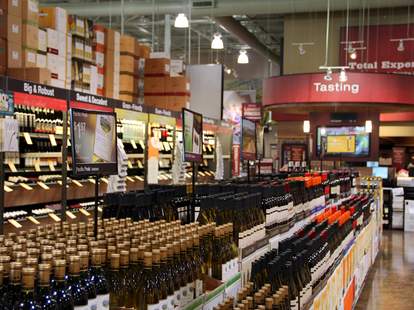 If you want your liquor store's very name to threaten total subjugation of the surrounding population like some irresistible beverage overlord, you could do worse than Total Wine: a Cali-based enterprise now landing in Dallas, complete with a huge stock, a classroom for booze education, a sampling station w/ 3DTV, and iPads w/ pairing apps for cheeses and whatnot. Now about that huge stock
Wines: They're currently at 6500 options (soon to be 8000), from a $1900 Lafite Rothschild, to more affordable rarities like Israel's Teva Muscato, to a fortified Hungarian called F Takaji, whose notes of pear and honey still cannot soothe the winery's hatred of some random guy named Takaji
Spirits: Come troll through 330 Scotches (notably Berry Brothers & Rudd's Own Bunnahabhain 1979, aged 32yrs in a sherry cask), 375+ tequilas (clearly you need the gun-shaped Old Carbine), and 500 vodkas, including Dan Aykroyd's Crystal Head (back in the '70s, she turned his brown and green eyes blue)
Beer: Spend hours perusing a 2000+ selection that counts Malheur Brut Reserve, Green Flash Palate Wrecker, Scotland's 18% BrewDog Tokyo, and Clown Shoes Blaecorn Unidragon, a Russian Imperial-style from Massachusetts, which pols are constantly accusing of being Russian Post-Imperial
Cigars: Their walk-in humidor boasts over 300 smokables like CAO Brazilia Gol! (best name ever?), Fuente Cubanitos, Ashton VSG Wizard, and Diamond Crown Maximus Toro #4 -- which can subjugate the surrounding population simply by being smoked inside.