Three levels of tasty towering over Plano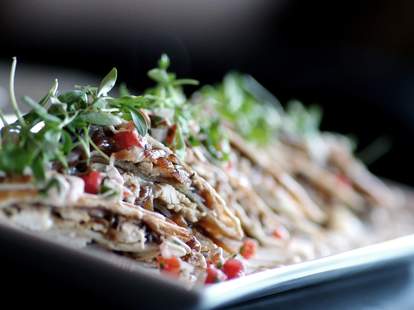 The Rio Grande Valley is so far away, noted Texas historian T.R. Fehrenbach once said of it, "Yeah, that's pretty far, should we just go to Plano instead?". Enter Urban Rio, a complete transformation of Plano's 95yr-old Ice House covering four stories:
A 1st-floor bar/dining room where ducts snake the ceiling and gleaming white subway tiles are marked with pictograms of brown suns
A 2nd-floor light-up bar that changes colors sometimes by the minute, sporting seven chilled booze taps (six tequila, one rotator for margs, etc), and surrounded by five garage doors opening up to nothing but air
A 4th-floor balcony/event space from which you can see the Dallas skyline, with a test kitchen for those times you just feel like filming an infomercial
Oh, and a 3rd-floor office space, for businesses that truly hate being late to happy hour
Beyond shots, you'll sip on cocktails like the Cazadores-fueled Guava Habanero and the tequila/mezcal/chili powder/agave Urban Cowboy (finish it or your Buds will call you a Sissy). Then take down meals including the thinly pounded, queso-listo-and-panella-stuffed Rio Steak, Gulf crab & roasted corn enchiladas, and Shea's Tamale Pie: diced chicken, chipotle crema, peppers, onions & chihuahua cheese in a masa dough crust, topped with oaxaquena crema & corn pico, all served in a cast-iron skillet "bubbly hot" -- temps that in the Rio Grande are tempered by Gulf breezes, explaining why almost everyone in Harlingen's 95yrs old.