Slowly migrating into Dallas, this Okie-based chain makes 'zas right in front of you, and you can request all the junk you want at no additional cost ("Any Toppings, Any Combinations, One Price!"). Choose a crust, sauce (from "angry red" to Thai peanut), cheese (mozz, asiago, feta, provolone, pepper jack...), and toppers like marinated ribeye, buffalo chicken, turkey pepperoni, and Canadian bacon that'll transform you from eye candy to John Candy.
Recommended Video
Potato Skin-Breaded Queso Balls Will Make All Other Apps Obsolete
Previous Venue
Next Venue
Venue Description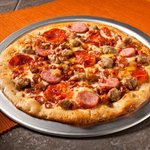 1. Top That! Pizza
2160 N Coit Rd, Richardson, TX 76063
"Top that!" is a personal pizza joint that ensures that you literally won't be able to top it: you can select your own sauce, cheese and unlimited toppings all for one price. And they'll even cook it for ya in under 5m.