Proving you don't need plastic surgery to make a couple of huge changes in your life, the East Hampton Sandwich Company comes from Hunter Pond, who first ditched law school after realizing it wasn't a good fit (far wiser than actually becoming a lawyer and realizing your whole existence isn't a good fit), then decided to enter the resto biz after a couple of years working with the folks behind Eno's and Union Bear. With a sleekly minimalist interior by Plan B (Oak, Bowery), he's "flipping the script" on most sandwich places: instead of making his own bread while outsourcing meats and sauces, he's bringing in fresh Empire Baking Co goods, but making each sauce from scratch, and prepping locally sourced meats in-house, including brining all birds 24hrs, just like Colin Firth is reputed to do. The painstaking prep plays out in numbers like Southern fried chicken w/ pepper jack, arugula, cured bacon, avo mash & jalapeno cream sauce; roast beef w/ spinach, local feta, purple onion, red pepper & chive-horseradish sauce; and the Hot Cheese & Short Rib, with that same horseradish sauce, plus caramelized onion, arugula, and white American, surprisingly not fresh from the Tampa Convention Center. Wash it all down with beers including Brooklyn East IPA, Breckenridge Summer, and Fireman's Blonde, also the hair color of many people walking around Dallas showing off their huge changes.
Recommended Video
This Nacho Mountain Destroys All Other Nachos
Previous Venue
Next Venue
Venue Description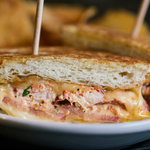 1. East Hampton Sandwich Co.
6912 Snider Plaza, Dallas, TX 75205
East Hampton Sandwich Co. has found a way to provide quality, hand-crafted food with the speed and efficiency of fast-food. The Dallas spot serves gourmet sandwiches, many of which are centered around the standout Southern fried chicken. An East Coast sensibility is seen in chowder and whoopie pies, plus sandwiches with appropriate fillings like crabcakes and lobster (the lobster grilled cheese with havarti and American cheese is probably the best grilled cheese you'll ever have). Every order comes with a pile of house-baked potato chips, but the menu offers a battery of sides as well. Don't sleep on the sweet potato fries.