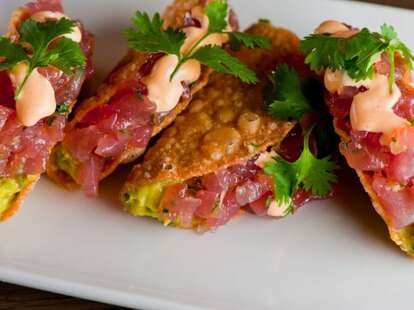 Sometimes it's easier to go through changes away from home, like when you head to college and discover politics, or the Broncos head to Kansas City and un-discover "passing". Embrace the changes a certain steakhouse made in NYC, at Del Frisco's Grille, soft-opening Saturday in Uptown.
Based on a concept first unleashed on Rock Center, the DFG reinvents the bar & grill in ways "grill and bar" proprietors never imagined, taking over a McKinney Plaza space where twin patios wrap around McK & Hall and two bars provide a convenient excuse for not answering your phone. The goods:
Starters, Sides, Sammies: White Clam Flatbread? Yes. Cheesesteak Eggrolls? Why wouldn't they have those? You can also go for grits in Cajun lobster gravy, or "Two-Fisted" burgers like a fat lamb number and the double-patty Green Chili Cheese, which won't save the planet, but will turn you into one.
Mains: These run from the reason Del Frisco's is on the map, to the greatest steak-influenced prawn ever (chicken-fried shrimp), to Bordelaise-sauced veal meatloaf, to Bay of Fundy salmon, Fundy Salman being Rushdie's ultra-conservative, awkwardly nicknamed alter-ego.
Libations: Your first instinct will be the "Uptown Hottie" (Treaty Oak Rum, mango puree, squeeze of lime, jalapeno slices), but if you don't want to rub in how good-looking you are, try the Tabasco/St Germain/Hendrick's "Kilt Lifter". They also boast 500+ wines, and twin taps dispensing a pair of chilled shots: the tequila & rum "H.O.T.D.", and the liqueured-up "Honey Badger", which will cause you to change right in front of everyone, because you don't give a damn!