Intimate yet festive with color squares and vivid artwork against its comforting brick walls, the Mi Cocina man's new resto cozies tweaked American notions like a crema-fresca'd slow-cooked pork sandwich against fully Mexican fare like quekas laguera (pastry pockets stuffed w/ cheese and brisket or chicken) and chilorio (Sinaloa-style pork w/ ancho chile & port sauce). Hop out of the Mambo Taxi, and go for frozens like the Herradura Jimador-fueled Micorita and the house sangria-swirled El Santo, even tastier than a dubbed action flick that caused audiences to ask "Es Val Kilmer mas gordo?".
Recommended Video
It's Worth Getting Sloppy For This Grilled Cheese Taco
Previous Venue
Next Venue
Venue Description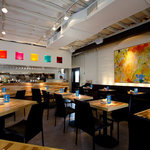 1. Mr Mesero
4444 McKinney Ave, Dallas, TX 75205
The guy behind Mi Cocina finally has another restaurant, and it's been worth the wait. In a space both intimate and vibrant, with vivid artwork contrasting nicely against exposed brick walls, Mr Mesero combines Americanized favorites with full-on Mexican dishes with outstanding results. The quekas laguera (pastry pockets stuffed with cheese and chicken or brisket) are definitely a standout. This joint also boasts what may be the best guac in all of the Big D, with a variety based on spice, zest, and ingredients -- one has serrano and onion crisps thrown in there.