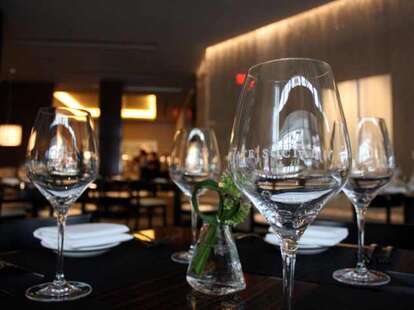 Opening tomorrow in Uptown, a resto for when you're with a lady, or with a big, safe group because you're terrified of commitment out with friends: Private | Social. Dates can seclude themselves in an intimate room whose wall-to-wall mirror facilitates the two of you marveling at how good-looking you both are; foodie groups can hit a draped-off chef's room with a panoramic window into the kitchen and six drop-down projection screens; and everyone else can hang in an airy lounge featuring a beige padded-leather bar that juts out like an arrow, and segregated from those daters by a chain-mail screen -- which oddly doesn't read "my cousin refused to send this letter to 10 friends and he was hit by a truck". The goods:
"Grazing" and "Raw & Barely Raw": Presided over by Tiffany Derry, the menu kicks off with the likes of Top Chef Pork Buns (she starred on Season 7), Thai Mussels, pastrami-cured hiramasa w/ tomato jam, coriander vinaigrette & pickled chile, and the Tuna Pizza, with ahi, anchovies, sweet/ nutty mache lettuce, and the totally precious belief that Drew Bledsoe has any gas in that tank.
"Water and Land": Entrees range from aqua-proteins like white sturgeon dressed in blue crab chowder, pancetta & licorice, and pan-seared Scottish salmon with roasted Kabocha squash and Brussels sprouts; to landlocked feasts of smoked venison in a Texas creamer "cassoulet", and braised beef cheek with pepperoni sauce & cheese grits, which'll really get you in the Flo. That joke was for the Olds!
Firewater: From Mansion mixologist/"accomplished bullsh*t artist" Rocco Milano, the diverse lineup includes house-fermented ginger beer, Andy Punch (rum, fruit juice, pomegranate grenadine), the Italian Old Fashioned (tweaked with Campari dust and poured over an ice sphere), and, with muddled strawberries, dehydrated Grand Marnier dust & lime caviar, the Margarita Interrupted -- named for a movie that makes fear of the opposite sex seem pretty damn rational.