At long last, Max's Wine Dive has made its way up I-45 from Houston. Opening Wednesday in Uptown, the brick-walled spot's dominated by a 50ft bar running almost the full length of the place, with chalkboards up above, and booths positioned opposite, so hopefully you'll be able to ask Powers what he thinks about the Red Dawn remake. What the joint's all about

Vino: All of their 150 wines are available by the glass and bottle, and you can also buy bottles-to-go at retail prices. The list's still being finalized, but Dom's definitely on it, and Franzia's definitely not, because that's too classy for dives

Max's Classics: Their full-time menu runs from pulled pork- & cotija-stuffed peppers, to a ciabatta pugliese sammie with three sea-salted, truffle-oiled fried eggs (plus bacon & gruyere), to Max's Kobe Beef Burger: a Wagyu patty with Belletoile triple-cream brie, house-pickled jalapenos, tomatoes, and hydroponic lettuce, which apparently really is lettuce, and not just something you tell your mom is lettuce

Regional Seasonals: They've tasked former Craft sous chef Patrick Russell to concoct locally sourced action like a veal sweetbreads pot pie (w/ parm cream, carrots & Nicoise olives) and torchon foie gras sliders with endive and ketchup made from Concord grapes -- developed in the 3rd-most patriotic town in America, right behind Hollywood (where Red Dawn was developed), and Lexington.
Recommended Video
Watch This NYC Spot Make Sausage Out of Chinese Takeout
Previous Venue
Next Venue
Venue Description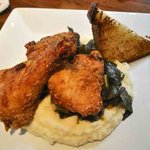 1. MAX's Wine Dive
3600 McKinney Ave, Dallas, TX 75204
If you're planning on heading to MAX's leave your calorie counter at home and embrace the slogan, "fried chicken and champagne... why the hell not?" because that pretty much sums up the menu. This industrial, southern-style vinoteca features exposed brick, high top tables, and a whole wall wine of wine bottles that is almost as imposing as their wine list featuring vino from Italy, France, Spain, Portugal, and good ol' Texas herself. They have beer on tap for those who prefer a different kind of bubbles as well as a full bar. MAX's menu is all about the frier: expect chicken and waffles and honey-butter fried chicken benedict over biscuits at brunch, and classic fried chicken dishes among sinfully cheesey mac and cheese and Fried Lobster Risotto options.