The founder of Odell Brewing is leading this paired five-courser including spicy steamed mussels/ red chiles/ crusty bread with a Myrcenary Double IPA, and smoked pork ribs/ baked northern beans with their Cutthroat Porter, also a movie about what it takes to make it in the competitive world of bell-hopping.
Recommended Video
Meat Flowers Are Here to Give You The Best Valentine's Day
Previous Venue
Next Venue
Venue Description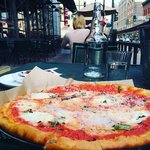 1. Lucky Pie Pizza & Tap House
1610 16th St, Denver, CO 80202
Lucky's LoDo location has 5000sqft of exposed brick and steel work, floor-to-ceiling windows aplenty, and a 27-tap concrete bar ready to please. The weekly specials never fail to intrigue, whether inspired by a Reuben with corned beef, Swiss, and Thousand Island dressing; Midwestern comfort with shaved beef and cheese curds; or Thanksgiving dinner with acorn squash and maple walnuts. But this two-hit wonder also counts among Denver metro's best beer bars, with taps devoted to local, geeked-out, and rare brews.