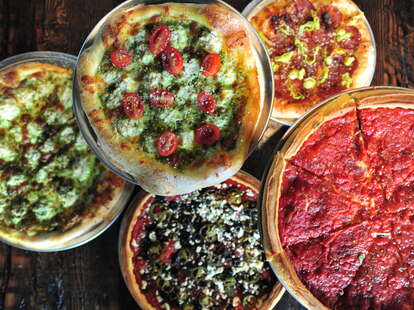 San Francisco's the home of innovation, as evidenced by their robust start-up culture, their top-notch The Rock chase scenes (wait -- no, he's crashing through a trolley?!), and, of course, Patxi's Pizza. Thankfully, that last one is now blessing Englewood
After being voted "Best Pizza" by an SF alt weekly, they decided to open their first non-Cali location here: a "rustic modern" 100-seater that churns both delicious thin crusts and Chicago styles from their perfect weapon, a revolving deck in the oven that ensures an "even bake". For those Windy City joints, Zoe's Natural Meats, fresh-cut veggies, and cheese are sandwiched between two layers of dough before it's all baked for 26mins, with signatures including the BBQ chicken/ smoked bacon/ jalapeno "Favorite", and the garlic-fennel sausage/ peppers/ onions "Special"... so they must have been named somewhere other than innovative San Francisco. "Crunchy on the outside and chewy on the inside" thin-crusters are highlighted by the spicy salami + pepperoni/ sausage/ mozz "Tre Porcellini", and the spicy salami/ hot coppa/ pepperoncini "Picante"
Pair the 'za with burrata bruschetta & meatballs, one of eight craft beers on tap, and something from a wine list described as "diverse", much like a chase scene where Nic Cage drives both a Lamborghini and a motorcycle.