Cue some of the country's best 'que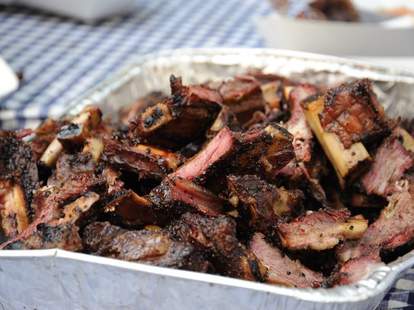 It's kind of ridiculous that one of the country's biggest BBQ events was previously only held in NYC, where their idea of a pitmaster is the guy that survives after falling into one of their many CHUD-infested sewer holes. So it's fitting that the legitimately awesome Big Apple Block Party is now branching out and coming to Denver
The Mile High version's taking over Skyline Park this weekend for seven gutbusting hours each day, with beers from Wynkoop/ Breckenridge, live music, and meat from nine pedigreed pitmasters, including
Nashville's Patrick Martin, who's cooking a whole hog Western Tennessee-style (which includes a BBQ sauce with vinegar/ pepper/ ketchup) and serving it with sweet pickles.
Mike Mills, who's known as "The Legend" in BBQ circles, and's serving baby back ribs. His Peace, Love, and Barbecue won Book of the Year from the National BBQ Association, and was going to be included in Oprah's Book Club before she impulsively ripped out the pages and ate them.
Joe Duncan, who's repping his 10 Baker's Ribs restaurants in Dallas with their namesake slow-smoked over hickory logs.
Kenny Callaghan of the vaunted Blue Smoke, a place that proves NYC actually does know good 'que, but knows very little about the color of smoke. And takes drugs.
Oh, and we're well repped via pork hot links from Jim 'N Nick's BBQ & beef brisket from Telluride's Tomboy Tavern, all of which you can get without waiting in line by forking over 100 bones, also found in those cavernous New York pitfalls.