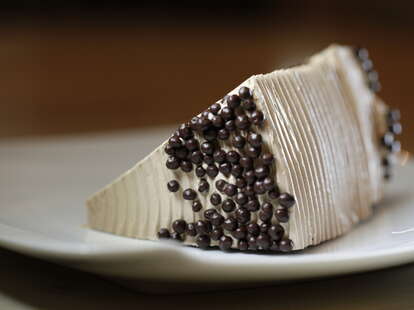 Even though Jewel no longer has a sweet tooth, they're still opening Crave Dessert Bar, an "oasis of indulgence" in a Spire building previously only full of lame real-food places. They're whipping up an ever-evolving menu of insanely decadent treats and cocktails between walls painted Champagne and chocolate for a "dessert-like ambiance", not to be confused with a "dessert-like ambulance", which carts away Chris Berman when he's overdone it on ice cream cake.
Kiss your shapely thighs hasta luego and gorge on pumpkin cheesecake mille feuille with ginger-scented phyllo/huckleberry preserve, a molten chocolate cake with white chocolate candy cane ice cream, and a flourless chocolate cake with milk chocolate peanut butter mousse and salted caramel ice cream called the "20" Layer Cake (welcome to the...being fat).
Curb worries about your awful new form with 'tails like the tequila/St. Germain/ orange bitters Curtain Call, and the Dessert in a Glass: vanilla vodka, white chocolate-cinnamon syrup, espresso, and cinnamon-infused whipped cream, which again, no one wants to see you make a bikini out of, because you're gross now.
If you still desire more cocoa, consult a physician, and then perhaps order an Irish Hot Chocolate set off with vanilla-scented cream and Baileys marshmallow, a drink that's now even more toothsome than Jewel.
Photo by Marc Piscotty