Paris meets Denver, food ensues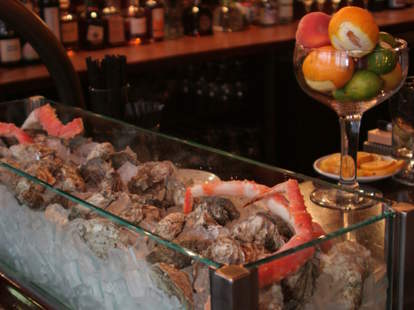 Colorado and France have more in common than you'd think; for example, both house massive mountain ranges, with the Rockies in CO, and the mounds of cigarette butts on Parisian sidewalks. Giving Mile High one more thing to share with The City of Light: Le Grand Bistro & Oyster Bar.
From the restaurateur behind the late/ great Argyll, the 150-seat Le Grand recreates "the old, classic bistros of Paris" with turn-of-the-century chandeliers, subway tiled walls, and a recently re-exposed 125yr-old mosaic tile floor, marking the first time you've seen a 125-yr old exposed since There's Something About Mary. "Everyday French comfort food" starts with frogs' legs in Worcestershire aioli and a beef tenderloin with purple onions/ cornichon/ quail egg, and is buttressed by a well-stocked raw bar slinging Kumomoto/ Blue Point/ Fire River/ Lasquitis oysters, poached Maine lobster, and stone crabs, aka why neolithic cavemen always made sure to wear condoms, though those were also made of stone... Mains include steak frites from CO's Best Beef Co, plus PEI Mussels with white wine/ parsley/ tarragon/ tomato confit, and, paired with a parsnip puree/ baby carrots/ pearl onions/ glace de viande: a lamb shank, which sheep do to each other when locked up in the pen.
Even though France is wine country, beer and liquor take center stage, with signature 'tails like a Le Grand Carre with cognac/ rye/ carpano/ dubonnet/ absinthe rinse/ bitters, and 10 drafts, also what you think is blowing down a Parisian street, before turning around to see that's just like 300 people puffing cigarettes.