Actually enjoy grinding at a sausage fest by attending this Cook Street class that'll learn you on cuttin', grindin', seasonin', stuffin', linkin', and tyin' several varieties of tubed meat, like Merguez/ Italian/ bratwurst/ Boudin Blanc. Once the teaching part's over, enjoy a sit-down dinner that'll pair the class-made creations with craft brews.
Previous Venue
Next Venue
Venue Description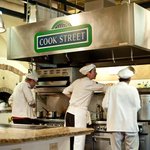 1. Cook Street School of Culinary Arts
1937 Market St, Denver, CO 80202 (Lodo)
If you've ever wanted to learn how to cook anything and everything, check out this LoDo bastion of cooking knowledge. From one night classes like Thai cuisine or a longer series of lessons for those who are interested in baking "showstopping artisan bread", this place has got you covered.