Really growing a business in a small town can be tough, what with their populace's limited incomes, simple needs, and tendency to hate you when they overhear you calling them "limited" and "simple". Also, there's just not enough people to buy your awesome pizza, at least according to Lucky Pie, who're now openin' up in the big city

Looking to capitalize on Denver's cosmopolitan pie demand after their first joint humbly stuffed the 20000 residents of Louisville, Lucky's LoDo location's got 5000sqft of exposed brick and steelwork, floor-to-ceiling windows aplenty, and a 27-tap concrete bar ready to make sure your voice ends up just as gravelly. If you'd rather start by slamming pints of mozzarella, though, there's a sushi-style cheese bar where dairy-ticians will prep mozz, ricotta, or stracciatella before your eyes, which ought to leave you primed for snacks like spicy pig ears, porcini popcorn, and braised lamb meatballs. Rounding out the meal/your torso are entrees such as fried chicken w/ red eye aioli, and, of course, pies running from a standard Meat Lover, to the Ham & Cheese with pilsner mustard seeds, to the shaved Brussels sprouts/apples/pistachios Bruges, which you can put in you, assuming Ray Winstone hasn't already eaten them all

And then there's the matter of those 27 taps, which'll be pouring an impressive all-craft list including Ska's Modus Hoperandi and Odell's 90 Shilling, which those poor people from small towns will be awed by!
Previous Venue
Next Venue
Venue Description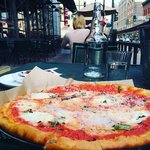 1. Lucky Pie Pizza & Tap House
1610 16th St, Denver, CO 80202 (Lodo)
Lucky's LoDo location has 5000sqft of exposed brick and steel work, floor-to-ceiling windows aplenty, and a 27-tap concrete bar ready to please. The weekly specials never fail to intrigue, whether inspired by a Reuben with corned beef, Swiss, and Thousand Island dressing; Midwestern comfort with shaved beef and cheese curds; or Thanksgiving dinner with acorn squash and maple walnuts. But this two-hit wonder also counts among Denver metro's best beer bars, with taps devoted to local, geeked-out, and rare brews.