The world comes to LoDo in convenient taco form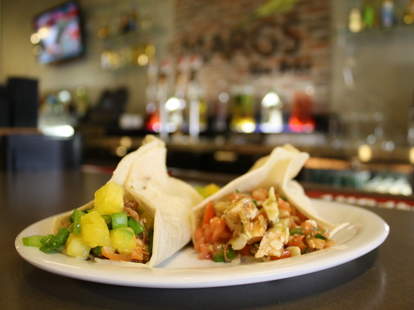 Every country sees the world through their own lens, like how America's textbooks describe Vietnam as a tie, or how North Korea's textbooks would view America as evil, if their country hadn't outlawed books. For global cuisine filtered through Mexico's gastronomic prism: Marg's Taco Bistro.
Founded by the guys behind Smiling Moose Deli, MTB's a minimalist 45-seater with light green booths in the back and garage windows out front, all the setting for "world tacos" stuffed with flavors from places like Morocco, Italy, Thailand, and the Caribbean, where actual soft tacos have never caught on due to their populace's continued attempts to roll them tighter and smoke them. The palate primed by a warm cheeses/ tomatoes/ green chile Beanless Bean Dip, tour the gluttonous Epcot with tacos like the chicken/ Asiago/ mozz/ bruschetta/ citrus basil Caprese, the chicken/ curry yogurt/ slaw blend/ jicama/ pineapple habanero salsa Moroccan, and the pulled pork/ scallions/ pineapple salsa/ lime juice Caribbean Jerk, which's also what you call an islander who won't share his taco blunt. As booze is truly the international language, they've got 'tails like the Cadillac Marg with handchipped ice/ fresh lime juice/ cayenne-infused tequila, and a jalapeno-infused Tequila-tini with orange liqueur/ lime juice, plus four Avery beers on tap (White Rascal, Ellie's Brown Ale), and a $5 Tecate & 'quila shot deal dubbed "The Pair", likely because that's how many of everything you'll see after doing a couple.
Should you like your tequila straight and unpaired, they're stocking everything from Denver's own Tequila Proximus, to Herradura, to Tres Generaciones, a passage of time that ought to see North Korea finally allowing the free exchange of ideas banning some sort of crazy laser mindbooks or something.