A "more refined version of the old one", the roomy, 4000sqft LoDo iteration of The Squeaky Bean is so big and awesome it should give the original Highland space a wedgie. Plating the same "cutting-edge, creative" seasonal cuisine (and sourcing ingredients grown on their own farm), the generally farmhouse-y spot is set off with a few non-minimliast design touches, like a host stand fashioned from an ancient automatic drink mixer, tables cut from old train car flooring, and a spoon-filled chandelier called the "The Spoondelier", which sounds like a movie where Antonio Banderas swashbuckles his way into cuddling sessions

Dig into a seaworthy king crab tortellini filled with corn & roasted shishito, or opt for land-based dinner plates like "lamb-wrapped lamb" served with an exotic Chinese veggie & green garlic soubise, and duck terrine with cherry, mustard, and bread soldiers, who're just mercenaries fighting for dough. The 12 'tails were hatched by the guy behind Williams & Graham and named for his favorite '70s and '80s movies/ TV shows, from the gin/ Blume Marillen "Real Ginius", to the 5 Island Rum/ Canton/ lemon bitters "Up in Smoke", which's poured from a frozen beaker so cold it produces a smoke trail, though especially now, you should never yell "fire!" in a crowded Denver

Four taps round out the drink list, highlighted by Avery White Rascal and Great Divide's Samurai, and then there's a strong selection of bottles stuffed in a restored Bevador fridge from the '50s, so apparently they're cool enough to avoid being stuffed in a locker.
Recommended Video
Potato Skin-Breaded Queso Balls Will Make All Other Apps Obsolete
Previous Venue
Next Venue
Venue Description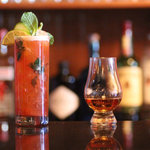 1. The Squeaky Bean
1500 Wynkoop St, Denver, CO 80202
The Squeaky Bean, based in Denver's LoDo neighborhood, is an American restaurant whose menu changes with the seasons, to the heightened satisfaction of your taste buds. If you visit their website, you can even get a 360° peek at the farm on which their ingredients are grown. And while their menu varies from crispy cauliflower one day to sheep's milk ricotta gnocchi another, it's always served in a light-filled space where the intersection of warm wood and orange brick offers your meal a homey context.