Free street food! Free booze! Reasonably priced literature!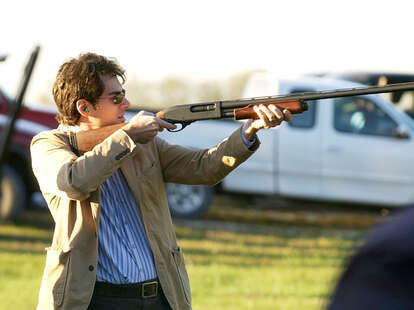 Has THIS ever happened to you: You've read EVERYTHING on the Internet! There's NOTHING on TV! Your girlfriend isn't it the mood and says she NO LONGER FINDS YOU ATTRACTIVE! Well friend, it sounds like you may be interested in learning about READING, and how you can become a part of this exciting new pastime that's already caught on in Europe and parts of Malaysia
For a limited time only (ACT NOW! IT'S HAPPENING TONIGHT!), head to Howl at the Moon for free eats & paired wine, which'll anchor a signing of new book Man Made, penned by noted Time columnist/ guy who was on I Love The '80s a lot, Joel Stein! At this once-in-a-lifetime event, enjoy a variety of carnival games (cornhole! pop-a-shot!) and delicious food from six (that's SIX!) Mile High food trucks (from Chef Driven's world cuisine, to Crock Spot's slow-cooked deliciousness, to the juicy BBQ at N.Z's Smokin Guns) all serving plates designed specifically for the vinos of Stark Raving wine co. -- fitting, as you'd have to be downright INSANE to miss this event! After you're done feasting, let international funnyman Joel Stein sign the book that'll teach you what happens when a complete wimp tries to

fight Randy Couture and not get killed! ("so many punchlines, you'll die laughing!")
go turkey hunting deep in Vermont's backwoods! ("reading about turkeys boning is as funny as you'd think it would be!")
drive a tank and participate in the US Army's basic training! ("Private Laughsalot reporting for duty, Sir!")
chill with firefighters! ("his acerbic wit is on fire in this chapter!")
Post-signing, hang out and watch Joel judge the best food/ wine pairing, and even better, all donations made at the event go to The Senior Hub Meals on Wheels... so don't spin your wheels and miss out on this event -- RSVP now!