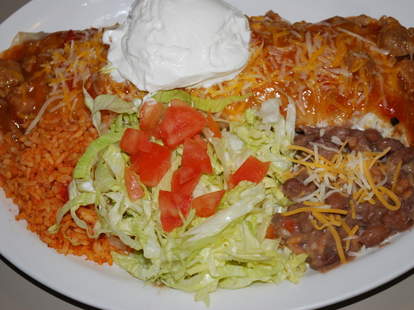 Making Taco Bell's relationship with the chihuahua look as fake as its food: Rolling Burritos, whose chef/owner actually hails from Chihuahua, Mexico, a town "famous for its ranching tradition".
A late-night, delivery-only joint that takes over Melita's Greek Cafe & Market's kitchen come sundown, RB sources the finest cuts of meat from a local carniceria, congratulates them on being mature and womanly and 15, and stuffs the slow-cooked/ fried carnitas, ground or shredded beef, chicken, and chorizo into burritos which can be covered in homemade green, red, or spicy chile sauce.
Fans of cheese can be sated by two gigantic enchiladas or quesadillas filled with beef, chicken, or a veg option like seitan (an extra buck-fifty snags a side of rice and beans). And if you're more comfortable with Mexican as part of a value meal, and with having to lie down for the next 4-5hrs, you can order up an enchilada + deluxe burrito for just $13.
They'll deliver anywhere within a 5mi radius of their Cap Hill location, and on Fri/Sat, will be open 'til 230a, meaning thankfully, fourthmeal no longer has to be all cornmeal.