The owners of Madison Street finally decided to just give the people what they want, and since they couldn't figure out a good business model for serving movies where Kevin James falls down, they opened Tag Burger Bar at Madison Street. After realizing that 80% of his sales were patties, prolific chef/ co-owner Troy Guard has scrapped the old menu for one loaded with crazily inventive burgers & sides (as well as 20+ beers on tap), all served in an overhauled space with a more industrial vibe thanks to huge blackboards and graffiti'd walls -- so yeah, it got TAG'd. Side out with BBQ beef brisket nachos, mac 'n cheese insanely topped with Cheez-Its & Goldfish, duck fat fries smothered in Cheez Whiz/pico de gallo, and deep-fried Kirby pickles that taste so good you'll think you died and went to Dream Land. When it's time to burger down, first choose among Gold Canyon Angus beef/ bison/ CO lamb/ turkey, then rock out with one of 15 insane signatures like the green chile/ goat cheese "CO Proud", the over-the-top pork belly/ fried egg/ bone marrow salt/ crispy chicken skin "Andrew Jackson", the "Godzilla" with teriyaki sauce/ tempura flakes/ shiitake, or the Gruyere/ "French onion soup onions"/ Grey Poupon "Menage A Trois", possibly named because after eating it, your arteries are screwed. The beers mostly come with suggested burger pairings, and run from killer out-of-towners like Russian River, to locals like Left Hand's 400lb Monkey... so apparently they did find a way to serve Kevin James?
Recommended Video
These Hot Dogs Are Served on King's Hawaiian Rolls
Previous Venue
Next Venue
Venue Description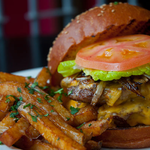 1. TAG Burger Bar
1222 Madison St, Denver, CO 80206
From acclaimed Denver Restaurateur Troy Guard, TAG Burger Bar is a neighborhood bar and grill with high-quality, inventive burgers, craft beers, and elevated New American food. Customize your own burger and mac and cheese -- build on the base (a1/3lb burger and pasta with cheese sauce and Goldfish-Cheez-it topping), with proteins, veggies, and various sauces. With 20 craft beers and seemingly endless burger and mac options, you may never have the same meal twice.