The "new, Old World rustic" resto has just made our list of Favorite 5 Winter Drinking spots with its woodsy cabinish trimmings, stomach-fortifiers like an herbed garlic roasted leg of lamb with ratatouille, and belly-warmers like an apricot brandy/ orange bitters concoction with whiskey from Old Overholt & Leopold Bros called Orchard in the Rye, though not Catcher in the Rye, because there's no J.D.
Previous Venue
Next Venue
Venue Description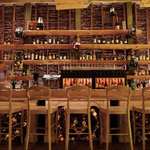 1. Beatrice & Woodsley
38 S Broadway, Denver, CO 80209 (South Broadway)
Beatrice & Woodsley is primed for date night with a romantic ambience and shareable bites like ricotta gnocchi and sour, curry-poached octopus. Not all entrees here are dainty though -- there are plenty of meat-centric dishes like braised goat with homemade barbecue sauce and pork chop with potatoes, kale, and escargot. The seating situation, consisting of narrow tabletops and cozy booths in the main dining room, encourages intimate conversation, so you may want to rethink taking a colleague here for dinner.