The food at auto garages usually consists of the vending machine's candy bars, chips, and -- oh, did you know your candy bar was leaking? Yeah, you really ought to replace that with a new one -- great, that'll be $700. Finally, one garage is filling you up right: Gary Lee's Motor Club and Grub

Finally opening its doors, the barstaurant serves up "world cuisine mixed with smoked meat and comfort food", and is run by a longtime hot rod enthusiast (bet you can't guess his name!) who's tricked out the former garage with all manner of hubcabs, grilles, and other auto parts to ensure gearheads feel at chrome. Fire up Colorado's not-as-sexy-as-a-car's economic engine by ordering local beers flowing from 12 taps (from Great Divide's Colette to Wynkoop's Rail Yard), then pad your stomach with apps like fried zucchini spears in breadcrumbs/ parm (served with a housemade ranch). When you're ready to get really comfortable, there's pulled pork slathered in "sweet, tangy" Carolina Gold sauce, country-style dry-rubbed ribs cooked low and slow, a smoked meatloaf that's "20% bacon", plus down-home sides like garlic mashed potatoes and a potato salad described as "off the hook", meaning your cardiologist must have placed the blame on that 20% bacon meatloaf

And if you just want to nibble while boozing, they'll be eschewing boring old bar nuts in favor of jalapeno-spiced peanuts made from Gary's family recipe kept so secret, it's basically the only thing inside an auto garage that won't leak.
Recommended Video
Potato Skin-Breaded Queso Balls Will Make All Other Apps Obsolete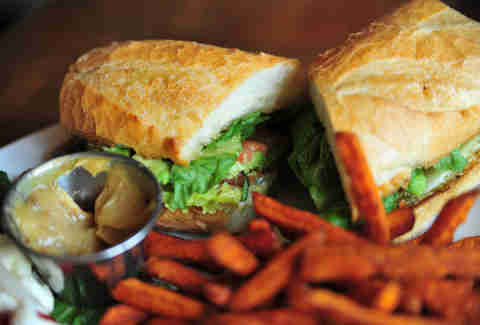 Previous Venue
Next Venue
Venue Description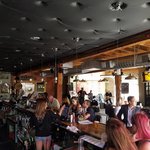 1. Gary Lee
176 South Broadway, Denver, CO 80209
Gary Lee's Motor Club and Grub is a neighborhood bar and kitchen that serves up greasy American comfort food, fittingly, in a former auto garage. Start off with a round of prosciutto-wrapped poppers and smoked chicken wings accompanied with your choice of Carolina gold, Cholula hot, spicy Thai, or Memphis dipping sauce. Continue ahead with brisket chili street tacos and a seared steak sandwich with smoked onion aioli, all to be washed down with a cocktail or two. But the drinks are notoriously stiff, so proceed with caution.