Getting inventive eggs is now overly easy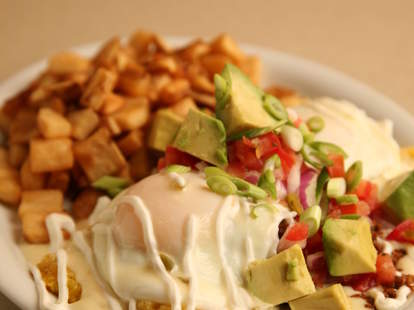 It's not hard to get stuck in a rut with eggs, especially true with the whites, who just flambé everything. For incredible edibles prepared more creatively, check out Wild Eggs.
Serving a "whimsical" and egg-heavy menu of morning food all day, Southwest-situated Wild Eggs boasts "specially commissioned egg artwork" and walls painted "robin's egg blue", and is the first Coloradan incarnation of a concept its Denver-born owners have already brought to Louisville, Kentucky three times, so factor in basketball, and that state's now got four things going for it! Eggs cover two pages of their menu (and if you're a messy eater, possibly more), with highlights like two of 'em poached in Kalamity Katie's Border Benedict with chili cheddar corn cakes & chorizo, a Creole omelet with rock shrimp & andouille sausage, and two more done any style and served with seasoned, lean 1855 corned beef in the Smokin' Hash. If you've just been dragged there by an egg-crazed Kentuckian, there's also sourdough French Toast stuffed with sweetened cream cheese & fruit, waffles like CoCo's Chocolate Concoction with marshmallow cream & almonds, and banana/ chocolate chip buttermilk pancakes called The King Would Eat These, though that could apply to pretty much any dish. No seriously, like, a dish.
And for slightly lunchier fare, they've got a fried bologna and egg sandwich, and a smoked salmon egg roll called the Leggo My Egg Roll, a dish that somehow manages to be awesome without being too flambeyant.