If breakfast is the most important meal of the day, then new breakfast-heavy Highland spot The Universal is the most important restaurant ever opened. With 80 seats and "sophisticated, urban" touches like pine beetle-kill planking as the bar's backdrop, it's serving AM-awesome, locally sourced comfort food given a Southern twist by their North Carolinian chef, so don't expect Blue Devil'd eggs. B-fast includes everything from cornbread rancheros and biscuits covered in sausage gravy, to egg scrambles with chicken apple sausage/ chevre, to a dish of fried eggs, Anson Mills grits, and head cheese, aka what Louie Anderson insists on using instead of shampoo. For those lunching, there're specialties like Gulf Coast shrimp with grits/ andouille brown gravy and a confited chicken leg with collard greens/ cornbread, plus sammies like an apple/ brie/ white balsamic caramelized onion joint, and a grass-fed Chuck Burger, which can't be named for Norris, as he'd likely prefer a chopped salad. And because every meal is better with booze, there'll be a TBD selection of wine & beer to accompany the all-important mimosas & Bloody Marys, which ought to help lead you to make some of the most overly hyperbolic statements of all time.
Recommended Video
Spinach and Artichoke Dip Pizza, the Ultimate Party Appetizer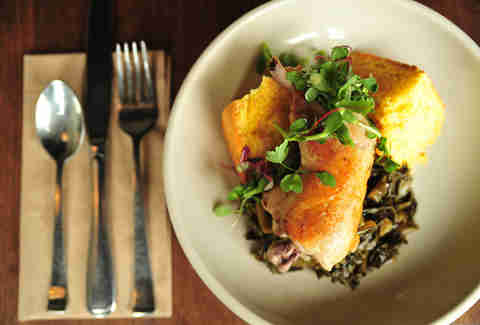 Previous Venue
Next Venue
Venue Description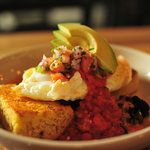 1. The Universal
2911 W 38th Ave, Denver, CO 80211
Although it specializes in breakfast-type eats, The Universal's menu also features an assortment of lunch dishes such as burgers, shrimp and chicken. There's even an excellent selection of wine and beer, in case you feel like wetting your whistle with something a bit more interesting than orange juice.