Called "the world's most famous butcher" by the Wall Street Journal and "that jolly-looking dude with that scary-looking knife" by Thrillist, Dario Cecchini sort of has a lot going for him. Now, The Mad Butcher of Panzano wants to pay it forward, breaking down and serving -- for your pleasure -- four courses' worth of animal at Panzano (the Italian fine diner... not the same-named town from which The Mad Butcher hails)

The meatstravaganza kicks off in the Hotel Monaco with a meat (ha!) & greet featuring gratis vino from his hometown, and five passed apps like grilled chocolate cranberry wild boar sausage & crostini topped with CO peaches/ speck/ mascarpone. Then, there's a live butcher demo in which Dario'll prepare traditional Tuscan porchetta, as you prepare to eat said porchetta, considerably less gracefully. You'll then want/need to take your seat to scarf meat-strous plates -- each paired with a wine selected by Panzano's chef Elise Wiggins (she helped!!) -- like juicy pork shoulder with speck & smoked mozz, and for dessert, CO cherry jam & dark chocolate crostata aside creme fraiche sorbet

And for those who wanna get even up-close-and-personal-er, an additional 30 bones'll score ringside seats at the Chef's Counter to watch the master at work -- just remember about that knife before asking him annoying questions, lest things get dicey.
Recommended Video
Get Your Boba Tea Fix in Italian Ice Form
Previous Venue
Next Venue
Venue Description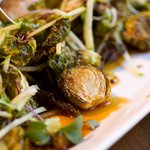 1. Panzano
909 17th St, Denver, CO 80202
Lauded as one of Denver's best Italian destinations, Panzano prepares artful plates of Northern Italian food inside Hotel Monaco. Its menu is a welcome break from the modern American fare that many hotel restaurants stray towards, featuring unique dishes like house-made pasta with lamb ragú and gluten-free options (a rarity at any carb-centric restaurant). The space, while eschewing the white tablecloth aesthetic, is polished and draws many a businessman, so brush up on your dressy casual dress before dining here.