Unlimited tastes of Mile High's top food and booze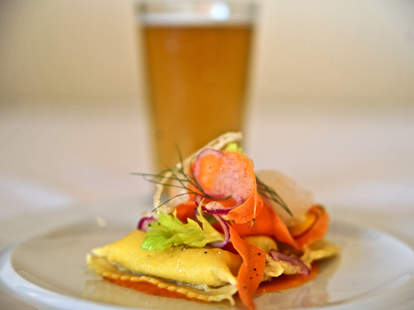 Unless you're a supremely efficient plastic surgeon, constructing 12 perfect pairs in a day is tough. Thankfully, 12 of Mile High's finest chefs are up to the task at next Thursday's inaugural Chef & Brew, where they'll each whip up a dish exquisitely paired with a select Colorado brew.To be clear: this is 3.5 hours of unlimited eating and drinking at The Oriental Theater, where you can take down beer samplers (in a complimentary souvenir glass!) aside each chef's app-sized portion of deliciousness, which'll include:
"Power Rangers Meatballs" from Row 14, so named because each ingredient is the same as a Power Ranger's color (e.g. rabbit's pink, pork's red), which're paired with a CAUTION: Brewing pale ale made with green tea
Beer Cheese Tortelli from Cherry Creek fine diner Opus Restaurant & Aria Wine Bar, which you can wash down with the Boulderite brewpub West Flanders' Belgian style Angry Monk, though expect it to induce you to anything but silence
Himalayan Encrusted Lamb Loin Carpaccio -- paired with Breck's Christmas Ale -- from the dinery hangout known for its "beer bistro flair", Ghost Plate & Tap
Also be on the lookout for Highland ramen joint Uncle matched up with Hogshead, the seafood experts at Jax Denver bro'ing down with the saison-happy Funkwerks, and Wynkoop's eats with, well, Wynkoop. All in all a lineup you'd have to be a serious boob to pass up on.