Making something more accessible to a wider audience often involves watering it down, unless you're talking about airplane seats and actual fat people, in which case Vaseline's probably more effective. For a restaurant getting accessible while retaining their awesome, check out The Kitchen [Next Door]. Situated in a significantly larger space than its sister spot, Boulder-fave The Kitchen, [Next Door] rocks "sustainable design elements" (CO beetle-kill for the floors, reclaimed Douglas fir for the bar), and serves up more casual farm-to-table cuisine with "everything under $9", meaning s**t must be like 4.5x as a good as a Gordita Supreme. For starters, there's local microbrews (Dry Dock's Apricot Blonde, Oskar Blues' G'Knight Imperial Red) and wine on tap, plus shared plates like fingerlings tossed in garlic butter called Garlic Smashers, fried kale chips, and Rosemary Lardo Flatbread, which features backfat from a pig that, when smeared, becomes invisible, so a "vegetarian wouldn't notice it, but they wouldn't be happy if they ate it", though that assumes vegetarians are ever happy. For mains, there's a signature beet burger with feta/ balsamic onions/ arugula which "even people who didn't like beets thought was amazing", an even meatier Eaton Farm pork sandwich with salsa verde, and a CO roast lamb sandwich with a sauce made of mint from Boulder's Cure Organic Farm, a place that's Just Like Heaven. Except of course for the animals. All the money you saved with your meal can be well-blown come dessert time with a Chipwich-like ice cream sandwich, and outdoor lovers can try to snag the deck-side, likely-to-be-coveted community table which comfortably seats eight, or one of those dudes who always sits next to you on Southwest flights.
Recommended Video
Chick-fil-A Is Giving Away Free Food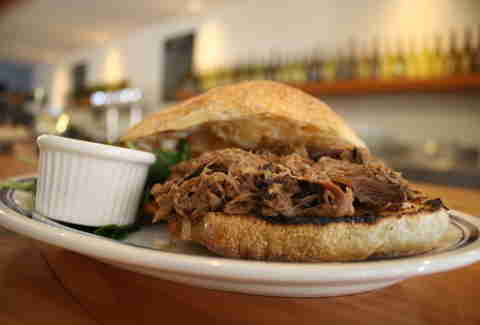 Previous Venue
Next Venue
Venue Description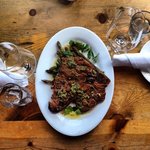 1. The Kitchen [Next Door]
1035 Pearl St, Boulder, CO 80302
The Kitchen [Next Door] has a community-minded philosophy driven by a simple but elegant menu and a casual environment. Stop by for a drink, a meal, and bring the kids ($2 of every kids meal is donated to help plant gardens in local schools).