A brightly decorated, modern 70-seater on The Hill, Zanitas is serving tacos deliciously addicting enough to ensure you're never able to walk up one again. Planning to do for Mexican what "Pei Wei did for Chinese", their Mexi-menu's ordered at the counter then brought to your table, and it's imaginative enough to separate them from other similar joints, having been dreamed up by one of only 62 American Culinary Federation-certified "Master Chefs" in the nation

Nine tacos are the main attraction, with selections ranging from the chile-buttermilk ranch "Shrimpy Rascal", to the marinated skirt/sauteed peppers "Jimmy James Steak", to one stuffed with smoked sausage, mac & cheese, and fried pickle, and dubbed "The Happy Taco", so apparently they're also trying to do for Mexican what all Chinese restaurants do for Chinese. If tacos aren't your thing, stop reading this email, close your eyes, and reevaluate everything there're red chile wood-roasted pork enchilada plates, burritos served either "clean" (no sauce) or "dirty" (topped by green/ red chile), and a wood-roasted chicken quesadilla with goat cheese, spinach, and kinda-spicy chipotle ranch

Being on The Hill, they know better than to skimp on the booze, and're serving 12 mostly Mexican bottles 'n cans, freshly made margs, and homemade sangria good enough to ensure that regardless of incline, you'll have a tough time walking anywhere.
Recommended Video
Taco Bell's Nacho Fries Are Here and They're Only $1
Previous Venue
Next Venue
Venue Description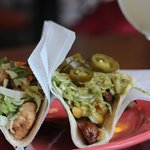 1. Zanitas
6365 E. Hampden Ave, Denver, CO 80222
Zanitas proclaims they are "not your mama's mex" and they deliver on that promise. Serving up toasted burritos and tacos ranging from their fried shrimp "Shrimpy Rascal" to their mac n cheese smoked sausage "Happy Taco", you'll be just as happy as your fried fare. Smother that business in their Habanero Hell Fire sauce, grab a margarita and let the good times roll.