Despite the progress of Colorado's food scene, brunch still rarely gets elevated beyond eating eggs benedict on an impressively high stool. Fixing that: Tangerine. Chef'd by the guy behind Boulder's famed Arugula and located right next to it, 50-seat Tangerine plates inventive takes on American brunch in a bright space with wood from a Wisconsin barn, orange hanging lamps, and a private dining room for parties or "business breakfast meetings", which beleaguered IHOP execs complain can really happen at any time of the day. Crazy new takes on old standbys include "biscuits and gravy" with a sourdough/ herb biscuit and sausage/ duck confit country gravy, a cast-iron chicken scallopini paired with waffles under cashew caramel cream/ Vermont syrup, and a tri-stack of specialty flapjacks (one multigrain w/ cinamon butter, one blueberry/lemon/ricotta, and one buttermilk) called a "Pancake Flight", aka flying coach between two fat people, aka flying to Kansas City. They've also dedicated an entire menu to organic local egg dishes, like a cast-iron pan stuffed with two eggs/ kale/ pinto beans/ bacon/ Grana Padano cheese/ tomatoes, a Caprese frittata with mozz/ tomato chutney/ basil pesto, and a smoked salmon benedict with shaved red onion/ capers/ hollandaise called the Salmon Caper, also a mysterious novel examining who decided to paint the dining room pink-orange, as opposed to the agreed-upon mauve. Lest your brunch run dry, there are black currant mimosas and bloodys, plus artisanal French-pressed java, which ironically, is a great way to get elevated stool.
Recommended Video
Mini Chicken Pot Pies: Big Homestyle Flavor, Endearingly Tiny Portion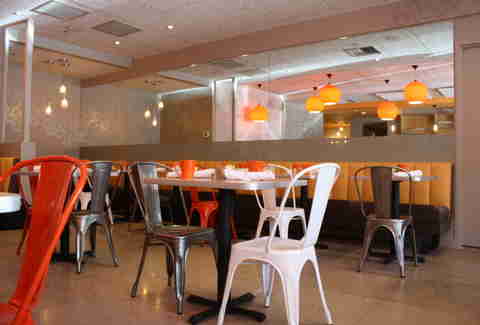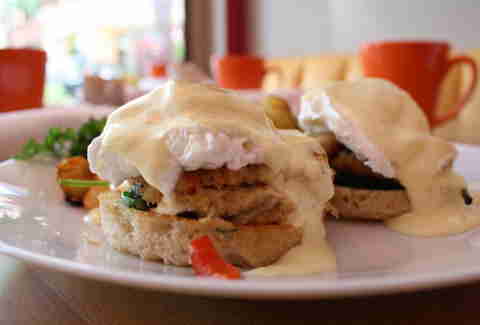 Previous Venue
Next Venue
Venue Description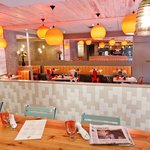 1. Tangerine
2777 Iris Ave, Boulder, CO 80301
Boulder is steppin' it up - brunch style. Creatively kill the hang over with new twists on old classics, like a cast-iron chicken scallopini paired with waffles under cashew caramel cream/ Vermont syrup. If that doesn't do it, try their house made spicy Bloody Mary with Colorado Mell Vodka and a pickled carrot.