If pigs were as smart as scientists claim, they would've surely found a way to avoid the 2nd Annual Blue Ribbon Bacon Tour, a two-day hogstravaganza returning to Keystone's River Run Village with 2000lbs of crispy, delicious swine, and nearly double the number of food vendors as last year. Lest you find yourself overloaded under a pig-pile of options, see below for the absolute must eats


Pork wings, prosciutto-wrapped melon, bacon-stuffed mushrooms, and bacon-wrapped meatballs from Keystone's family-style Italian joint Luigi's Pasta House, ironically more likely to destroy your house's plumbing
Elvis pizza with bacon-infused peanut butter/ applewood-smoked bacon/ banana/ honey from Iowa's Gusto Pizza Company
Chocolate-covered bacon from Rocky Mountain Chocolate Factory, presumably named for R. Kelly's seminal album (the chocolate bacon will definitely be hot and fresh out tha kitchen!)
Back-fat-wrapped jalapenos (stuffed w/ mascarpone), dates (stuffed w/ mango cheese chutney), and filet mignon from Wolf Rock Steakhouse
Bacon-wrapped pork tenderloin, and a house-cured parmesan Canadian bacon polenta (w/ tomato relish) from Alpenglow Stube, the only restaurant that shares the name of the Nordic secret agent in your screenplay
Everything's available a la carte with "bacon bucks" you buy at the fest, but drop $80 for a pass beforehand and you'll nab a night's lodging, and unlimited sampling at the Bacon Showcase, where the actual pig producers (like, the farmers, not mother pigs) will flaunt their tastiest, their smartest having escaped the pens long ago.
Recommended Video
Where to Get the Best Waffle Fries You'll Ever Eat
Previous Venue
Next Venue
Venue Description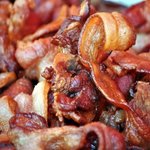 1. Blue Ribbon Bacon Tour
129 River Run Rd, Keystone, CO 80435
If pigs were as smart as scientists claim, they would've surely found a way to avoid the 2nd Annual Blue Ribbon Bacon Tour, a two-day hogstravaganza returning to Keystone's River Run Village with 2000lbs of crispy, delicious swine, and nearly double the number of food vendors as last year.