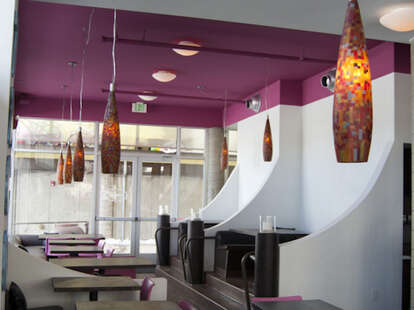 Longmont has a fair bit in common with prison: the scenery is bleak, many of the residents have a criminal past, and the bars are the only thing keeping people there. But at least now the food is better, thanks to Comida.
Opening their first brick-and-mortar tomorrow in the Longmont 'hood where people used to queue up for hours at their truck, Comida's new 64-seater slings a much-expanded menu of fresh, a la carte Mexican and booze in a "comfortable, neighborhood joint" that's funkily colored and has "no shortage of pink", similar to a Carey Hart motocross race. Their large, open kitchen allows for more taco variety, with goodness including pork carnitas cooked in Stella/ smoked Gouda/ pineapple habanero mash, sirloin bathed in Negra Modelo/ onions/ house cream, and brand-new griddled soft corn tacos with carnitas, roasted chicken, or bacon-jalapeno, meaning you can finally get on a hot Babe. If quesadillas are more your thing, then hold on to your sombrero (which should be easy, given the ample hand-holds), 'cause they got eight of 'em (like polidori chorizo, red onion escabeche, fish and refritos "with the business"), as well as tortas like a daily fish with orange jalapeno slaw on crusty Mexican rolls.
Like booze? Want to feel less insecure about actually wearing that sombrero to the restaurant? Then hit their tequila-/ whiskey-focused bar with four taps, plus some Modelo Especial and Tecate, if you aren't repulsed by bad memories of the can.