Aspen finally gets an over-the-top restaurant!!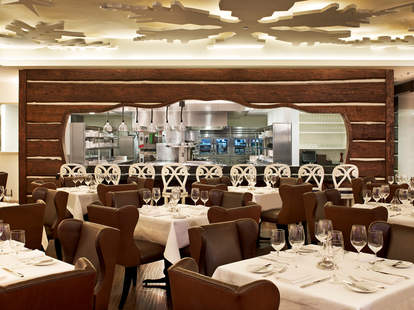 That saying about "too many cooks" must've been created with input from like 50 people, because it sucks. For proof of just how wrong they were, look no further than the multi-cook powerhouse that is Chefs Club.Opening this weekend to coincide with both the Aspen Food & Wine fest and the St. Regis Aspen Resort's hella pricey remodel, the hotel's Club has an open kitchen, a ceiling set off with giant, decorative inlaid snowflakes, and, most notably, a selection of seasonally changing dishes designed by a rotating team of chefs, all of whom have been dubbed "Best New" by Food & Wine mag at some point. Dishes from the dream team include:
CO Lamb Saddle (with gnocchi and Fruition Farms ricotta) dreamt up by Alex Seidel (he won in 2010) of our very own, very lauded Fruition.
Grilled prime bistecca Fiorentina (with porcinis/arugula/fava bean) from Neapolitan pizzaiola James Lewis of Alabama spot Bettola, though opening up a nice restaurant in Alabama is more like a HugeBettola.
The same Veal Osso Buco (with fregola/ baby carrots/ grilled leeks/ gremolata) that Top Chef Master Sue Zemanick serves in her New Orleans restaurant Gautreau's.
The menu's rounded out by a 10-strong list of specialty cocktails like the Leopold's peach whiskey/ sherry/ lime juice "Colorado Comfort", and the tequila/ mezcal/ ginger beer/ pineapple juice "St. Regis Stag", aka the lonely guy who'd love for just one other person to join him in the kitchen.