Cutting out a ton of food rarely goes hand-in-hand with doubling in size, but such is the case at Royal Oak's Cafe Muse, where they've expanded into the space next door & beautified everything while cleaning out their whole menu (save two favorites) to make room for all-new deliciousness. Get over there and take in: The Digs: After a neighboring shoe shop got the boot (how sole-less!), they knocked down the wall, and sexed up a secondary seating area with reclaimed walnut tables, and -- finally -- a fully dedicated bar made out of Italian granite, whose smooth elegance you totally won't notice as you lean against it, pondering a brand-new selection of... ...The Liquid: Signatures include everything from aperitifs & lighter cocktails (e.g., the rye/ginger syrup/baked apple puree "Enchanted Apple"), to the more Viggo-ninan "Eastern Promises" (rye vodka, black tea syrup, Asian pear), which'll lead to you waking up naked! (... though unfortunately, only because you're knife-fighting in a sauna). Oh, and there's also wine, and beers from Jolly Pumpkin (even their old stuff). The Food: New dishes nail every need, whether you're after shareable stuff (pretzel-crusted pulled pork ravioli, duck prosciutto/pecorino gnocchi...) or mains including pepper-crusted ahi tuna, and duck breast served with bacon-braised Swiss chard -- pig out, and enjoy going hand-in-hand with no one.
Recommended Video
This Brunch Spot Makes Smoked Pig's Head and Bone Marrow Waffles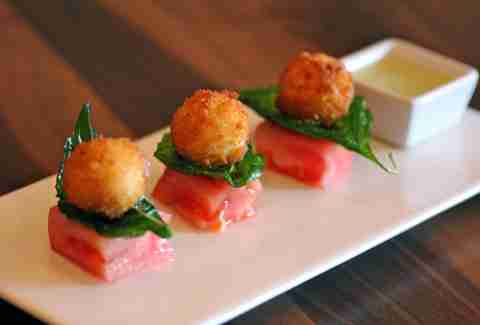 Previous Venue
Next Venue
Venue Description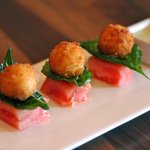 1. Cafe Muse
418 S. Washington Ave, Royal Oak, MI 48067
Made with harvarti, fontina & fresh mozzarella, organic bread, and a smear of honey (all locally sourced), Muse's grilled cheese was unsurprisingly recognized by Esquire as one of the "best sandwiches in America". Snag this and other awe-inspiring creations for breakfast, lunch, dinner, or boozy dinner.